After 2 glorious days in Portland, I headed back to the Amtrak station to make my way up to Seattle. On the train to Portland, I shared a table in the dining car with a wonderful couple, Chris and Linda,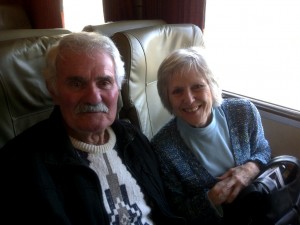 from Roseberg. They got off in Portland with us and were heading up to Tacoma on the same train that was taking us to Seattle. I saw them at the train station and once I found them on the train, we hung out in the dining car for most of the trip. Linda had a sense of humor that was right on par with mine so we spent most of the ride cracking jokes about anyone and everything. I felt so lucky to not only have met them on the way to Portland because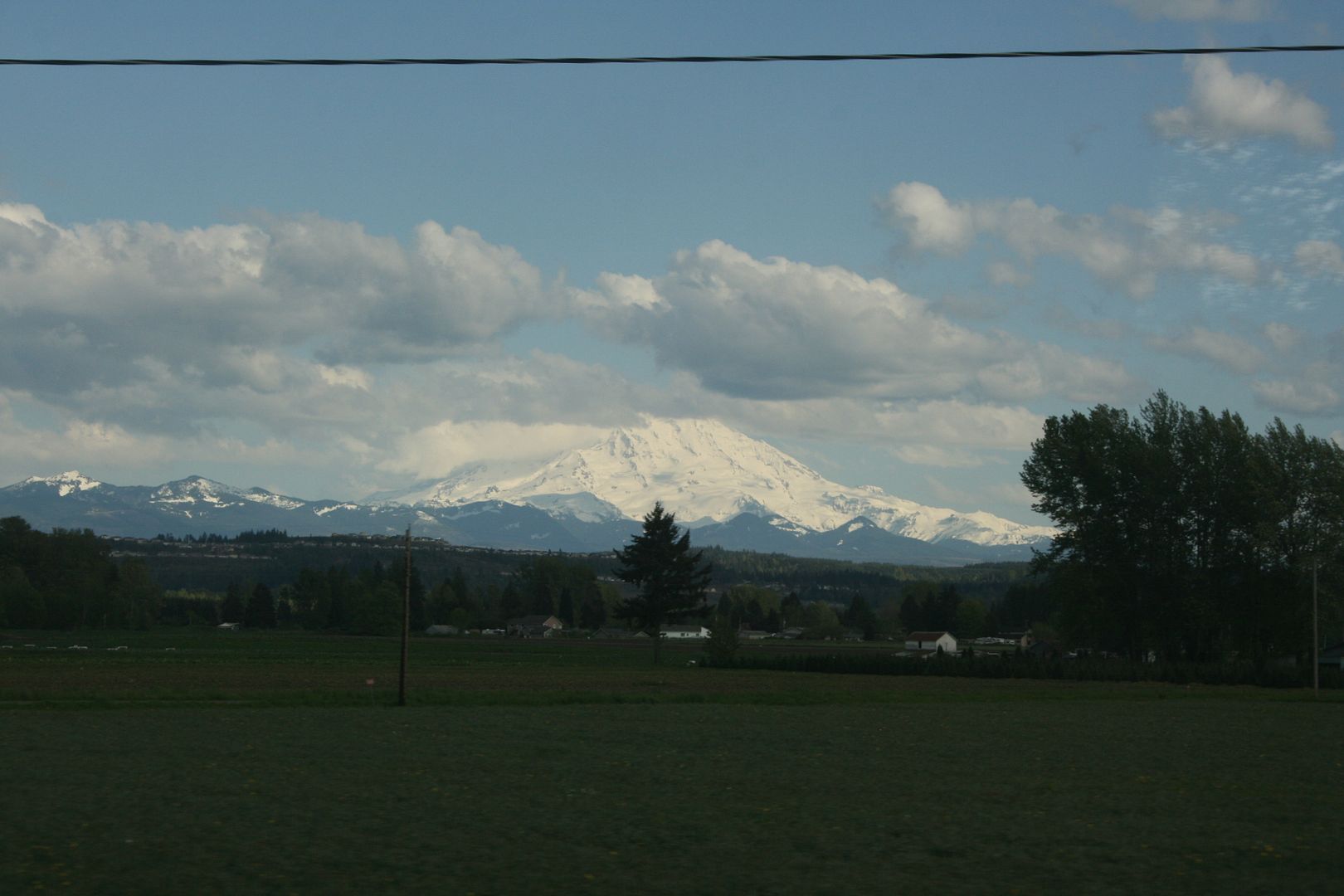 they made the trip to Seattle so enjoyable. An added bonus was their familiarity with the area. Chris pointed out all the big mountains and cities along the way. My favorite sight along the way was Mount Ranier. It was absolutely stunning. And then comes the view of Puget Sound. Amazing. The trip through the Pacific Northwest is so breathtaking because everything is so green, along with huge snow-capped mountains and beautiful views of the water. And since I wasn't driving, I was able to take it all in.
The Amtrak Station in Seattle is right next to Safeco Park so you are in
very close proximity to downtown. The first day in Seattle,  we ate at the Portage Bay Cafe which focuses on local, organic and sustainable foods.  I had the corned beef hash and it was so delish! The hash had sauteed red and green bell peppers and onions in it which made all the difference.  The only thing I didn't like was the bread that came with it.  It was some healthy grain bread that was extremely hard and inedible.  But the restaurant made up for it with a pancake/french toast bar which I loved.  If you ordered either, you could pile as much strawberries, blueberries, peaches, pears, whip cream, and butter as you could fit on your plate.
After breakfast, we went to check out the University of Washington and the campus around it.  I love visiting other campuses and seeing how different they are from UCSB. The U-Dubb campus is sprawling and the architecture is beautiful, with lots and lots of greenery everywhere. Someone was even taking wedding pictures in front of the Graduate Library when we were visiting.  It is like the Cal of Washington…beaucoup d'Asians!  I was fascinated by how many Pho spots they had on their main street of restaurants and stores.  Even more fascinating was that the Vietnamese restaurants give cream puffs at the end of each meal.  Strange but I will take it.
Next up was more touristy stuff.  The Space Needle, the Experience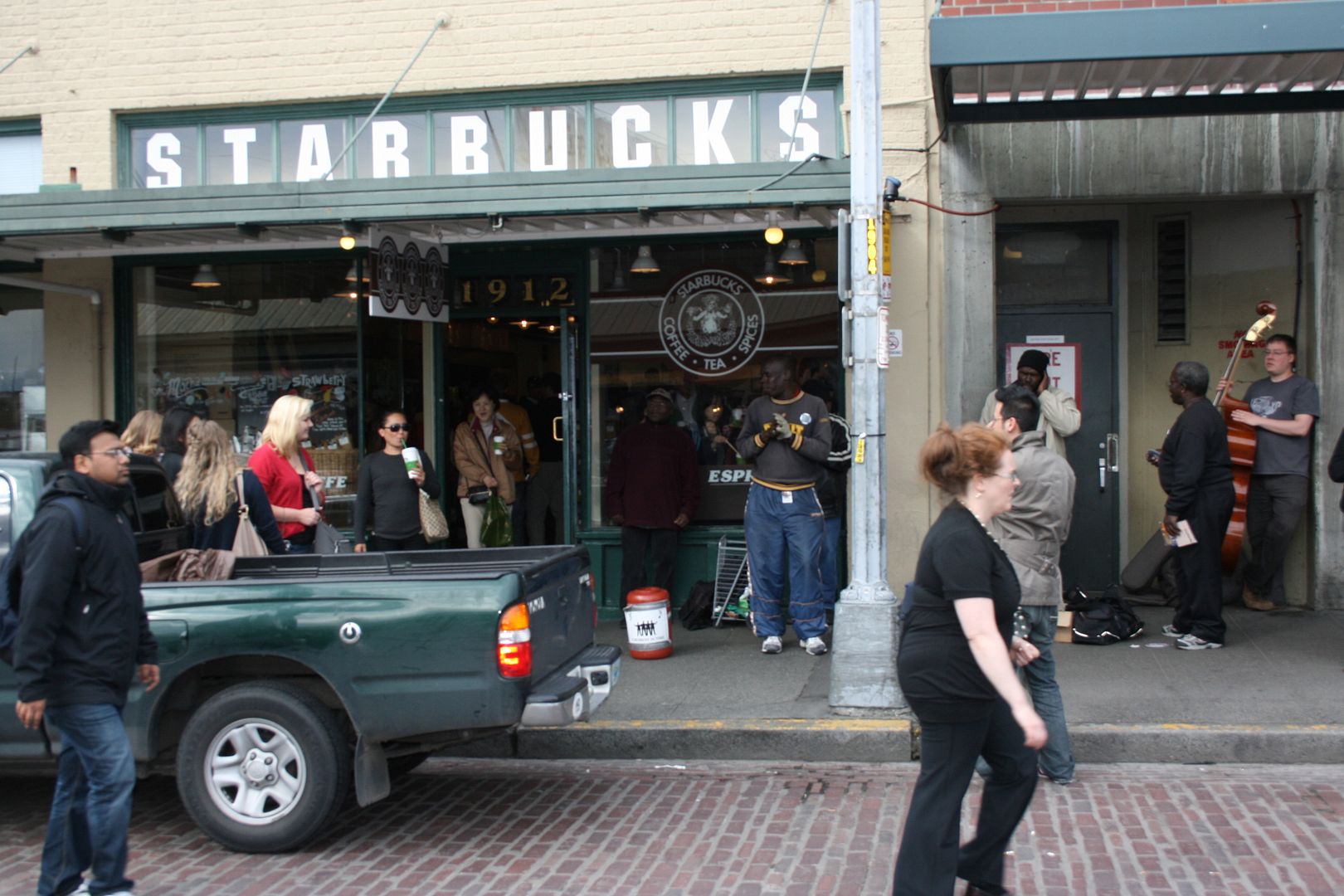 Music Project, and then on to Pike Place Market, which I was really looking forward to.  The first Starbucks is located here which is nuts considering  there is now one on every block (where's Miss Babbles in the pic?).  Then got some piroshkis at Piroshky-Piroshky. Pike Place Market is like the Ferry Building on crack.  I loved all the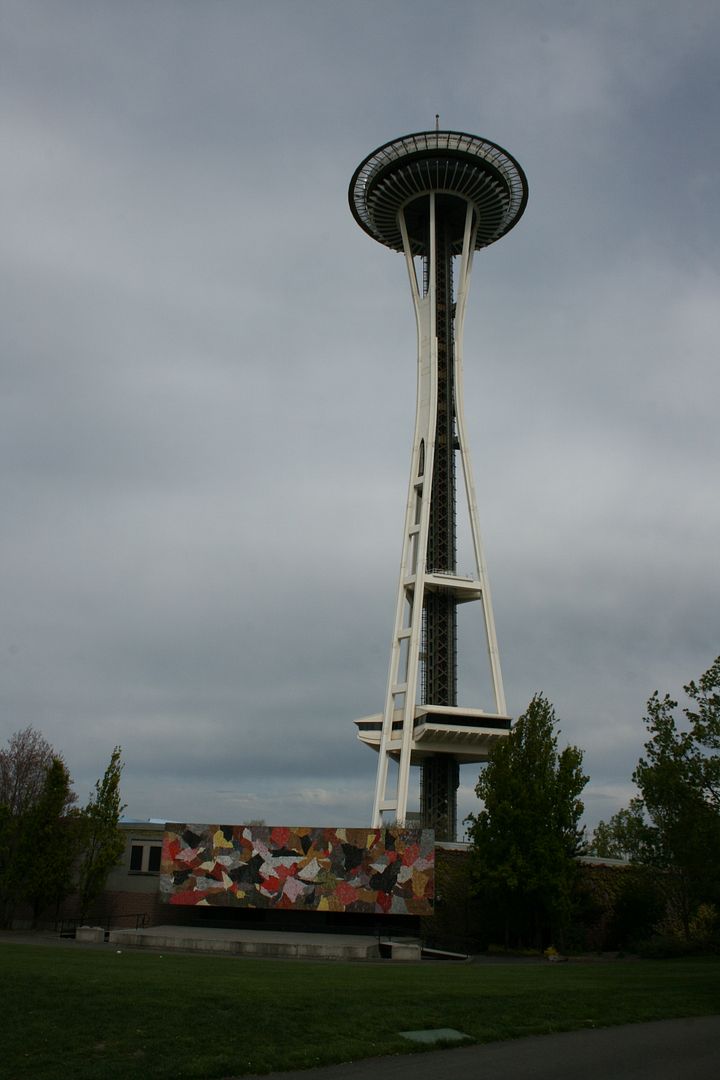 fresh seafood available.  It has every type of vendor from sausages to fresh pastas to flowers to fruit.  It also goes 4 stories down where they sell antiques, crafts, artwork, books, and random trinket stores. Outside there are vendors telling t-shirts and other clothing.  And there are tons of restaurants for sit down or take out, bakeries, and a fresh donut stand.
For dinner, we went to Joey's which is a quality chain that is mainly in Canada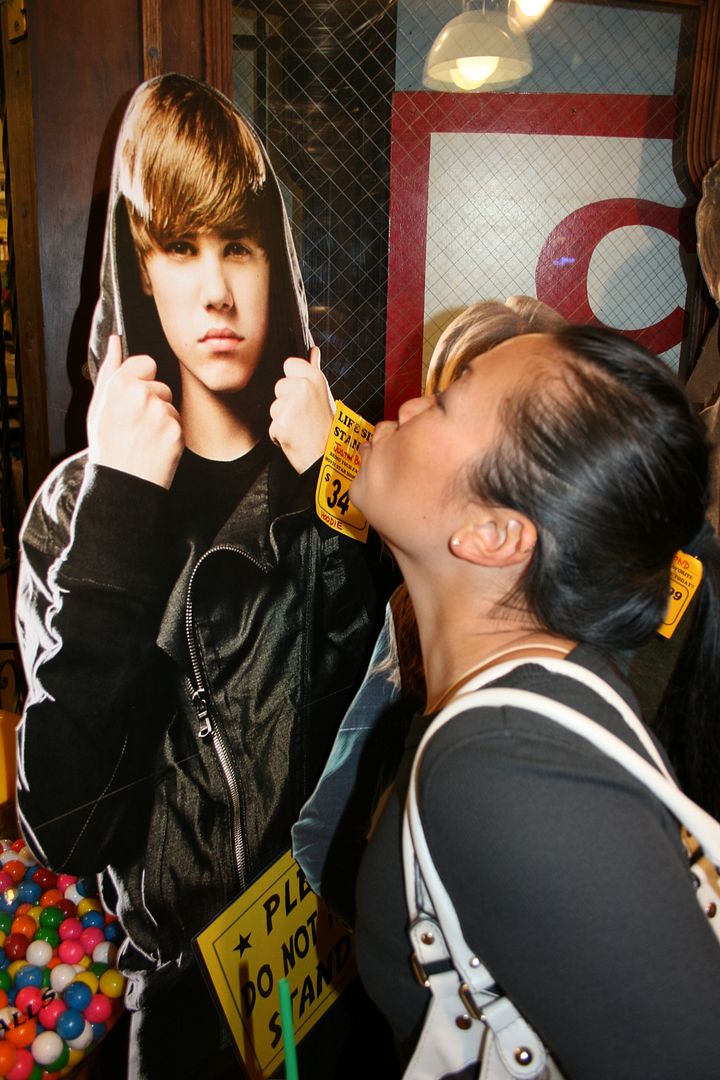 with 3 restaurants in the Seattle area. The Executive Chef, Chris Mills, was one of two Canadian chefs to ever compete on the original Japanese Iron Chef!  Now that's impressive.  I really loved the ambience of the restaurant.  Big screen TV's in the bar with sports on.  Dark wood, booths, music playing- it felt like a mix between a lounge and a steakhouse.  It did not feel like a chain at all.  We started with a caesar salad and fried calamari.  The calamari was excellent.  It was tempura battered along with red onions and my favorite part, deep fried serrano chiles.  I would've been fine just eating a plate of fried chiles.  It was salted with fennel salt and served with a tzatziki sauce.  For the entree, I had the lobster raviolis.  They were homemade raviolis stuffed with lobster, crab and shrimp served with a lemon dill cream sauce.  I totally rookied it and didn't save room for any dessert 🙁  Thank goodness for the donut I bought earlier at Pike Place Market.  In addition to my cousin Lewis, we were joined by his friends Mario, David, John and Yusuke.  The night was spend telling funny stories and making fun of each other.  Ahhh, just like home.
Stay tuned for: Seattle Part Deux