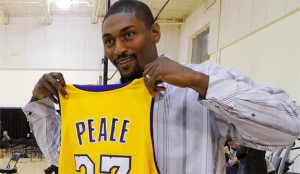 Ron Artest, one of the wackiest dudes in the NBA, has done something you would expect him to do — he's trying to change his name to "Metta World Peace." According to TMZ, "Ron's filed a petition in L.A. County Superior Court to change his name to — World Peace."
We already know what "world peace" means, so naturally you're asking what "metta" is. Metta apparently is a Buddhist term for the virtue of kindness.
Artest's representative has confirmed the story to the Mason & Ireland show. The best part is Ron wants to have "Peace" written on the back of his jersey, apparently in aspirations of being like Chad Ochocinco who did the same thing. When it comes to Artest, should this really surprise us?
Of course not, this is the same guy that:
– Admitted to drinking whiskey at halftime of games
–Choked a player mid-game
– Thanked his psychiatrist after winning the NBA Finals
It's the natural progression for a rap star, no?