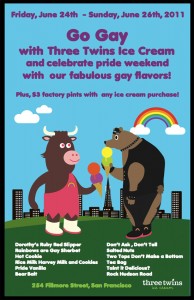 If you are a fan of Three Twins ice cream ( I don't know how you couldn't be with flavors like Banana Cream Pie and Burnt Caramel), then you should definitely help them celebrate Gay Pride Week.  In honor of the celebration,  from Friday to Sunday at their 254 Fillmore Street location, they are offering fun flavors that include:
Dorothy's Ruby Red Slippers, Salted Nuts, Rainbows are Gay Sherbert, Hot Cookie, Rice Milk Harvey Milk and Cookies, Pride Vanilla, Bear Bait, Don't Ask Don't Tell, Two Tops Don't Make a Bottom, Tea Bag, Taint It Delicious?, and Rock Hudson Road.
Plus get $3 factory pints with any ice cream purchase!  Now comes the hard part: deciding which flavor(s) to get.