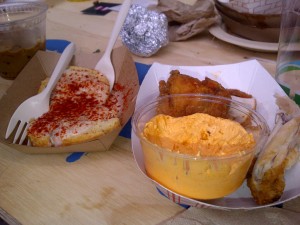 The 3rd Annual San Francisco Street Food Festival was on Saturday, August 20th in the Mission.  Although it was bigger than last year, it was still just as crowded.  Which is why you need to have a game plan in order to try as much food as possible before things sell out which they seem to do each year.  Our strategy is to go in 2 separate lines, get your food and then go to a 3rd line while eating what you just got.  It sounds piggy but you gotta do whatcha gotta do to maximize gorging.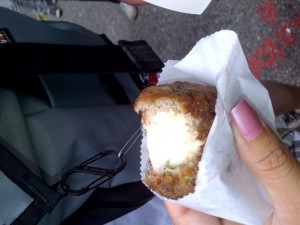 We got there around 1pm and immediately made our way to The Slanted Door's booth.  They were serving fried chicken with the most amazing condiment- Sriracha butter.  Genius and delicious.  Especially when washed down with Vietnamese coffee.  Great way to kick off the next 4 hours of eating.  While in line for The Door, I went to Chiefo's Kitchen and Mission Street Tortilla.  From Chiefo's Kitchen I got the Scotch eggs which are hard-boiled eggs that are wrapped in ground sausage and then lightly breaded and deep-fried.  I know, you're thinking- why didn't I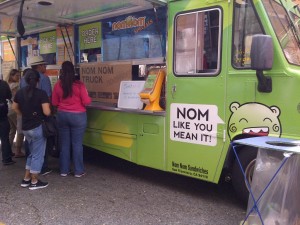 ever think of that?  Thank goodness somebody did because they are tasty little handheld treats. From Mission Street Tortilla which was I got a quesadilla with corn salsa.  These were finished as we got in line for 15 Romolo.'s Biscuits and Gravy.  Huge disappointment.  The gravy was nasty and the biscuits were hard.  Boo hiss!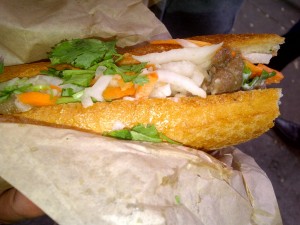 We then made our way to Zella's Soulfood Kitchen and The Nom Nom truck.  At Zella's we got the hush puppies which were (I can't believe I'm saying this) too salty!  We didn't even finish them even while standing in the 20 min line for Nom Nom so that is saying a lot.  When we finally got to order at Nom Nom we got the honey grilled pork bahn mi which I had seen a million times when they were on The Great Food Truck Race and the basil mint lemonade.  We got our food and immediately made our way to Flour + Water, which also had an insane line.  The bahn mi was totally worth the wait.  Tender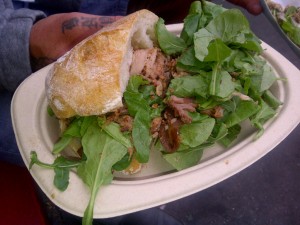 pork that was perfectly seasoned with fresh pickled veggies on a soft french roll.  Wish we had gotten 2!  While in line for the porchetta sandwich at Flour + Water, an employee walked along the line to say there were only about 30 sandwiches left.  Any thoughts I had of ditching the line went out the window as I desperately had to have one now!  We lucked out and got one of the last 10 along with the fried mixed peppers and corn and a watermelon-mint limeade.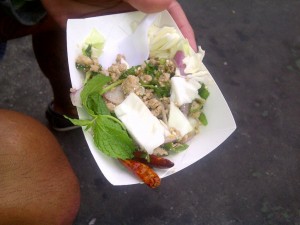 We took the food and headed towards Ceasar Chavez School where the last of the vendors were.  We got the chicken larb from Lers Ros.  Chicken larb is like a Thai chicken salad that is made from ground chicken and lots of fresh herbs like mint and cilantro.  It was super flavorful and this one was really spicy.  Even by my standards.  Finally it was time for dessert.  We headed to the The Creme Brulee Cart where we got a mocha one and a lavendar one.  The mocha creme brulee tasted like chocolate mousse.  Then to Blue Bottle for some coffee to fight the food coma which was inevitable.  And before heading to the Bart, we picked up 2 more Scotch eggs and another order of fried chicken from The Slanted Door just because we're filthy.
I would definitely say this food festival was a success.  It allows people to try street vendors and local restaurants that they normally wouldn't go to all in one place.  Each year it gets bigger and becomes a little more organized.  By far my favorite SF festival of the year.  If you're leaving hungry, you're doing something wrong, try again next year.