As I mentioned last week, Paradise Bay is making the transition to Salito's.  Although the restaurant hasn't finished the transformation to a Crabhouse and Prime Rib House, Salito's is open for business.  This means that until they install their special over to make the Primerib, there is none.  And that is very disappointing.  Luckily, the roasted crab that they offer is delicious.
I had called in ahead as it was 4th of July and I wanted to make sure it wasn't too busy.  When we arrived 15 minutes later, they had a table waiting for us.  The server came over and it was clear that he had not been properly trained on the new menu.  He didn't know what entrees came with and was confused on what some of the small plates were.
First up were drinks.  They put Straus milk bottles filled with water on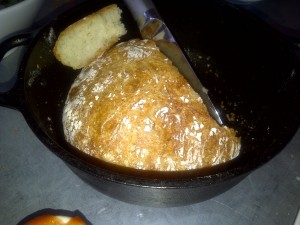 the table which I thought was a cute touch.  The soda is also brought out in a small glass bottle.  The soda was on the flat side so Franimal suggested they taste it and add more carbonation.  You can thank her later.  If you don't want to risk it, just get the Mexican Coke since you can't go wrong.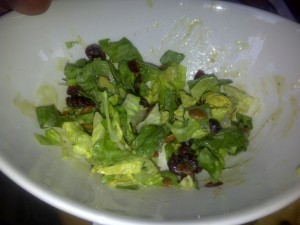 We started with an order of their fresh baked bread that comes with Straus butter.  Although they charge $1 for it, it is a good size and the butter is soooo delish.  Next up was the butter lettuce salad which came with sun-dried cranberries, toasted pumpkin seeds and a blue cheese vinagrette.  This was a big hit with the table.  The yellowtail carpaccio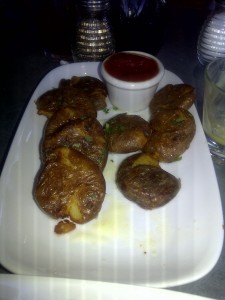 had soy sauce, olive oil, diced red peppers, scallions and capers on it. It was tasty but too heavy on the soy sauce.  Both the swiss chard and the brussel sprouts came with onions and bacon and were very tasty. And no, bacon does not make the vegetables any less healthy despite what you may think.  The potatolitos came out next which are new potatoes that are smashed and drizzled with olive oil and browned.  You definitely can't go wrong with these.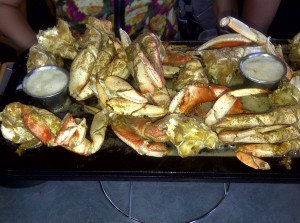 For 6 people, we ordered the crab feast which is supposed to feed 4 people.  With everything else we got, it was definitely enough for everyone.  The crab is roasted with butter, garlic and salt.  Before cracking into the crab, lick the outer shell to get a taste of the salty, buttery deliciousness.  The crab comes with their secret garlic sauce served super hot.  If you want to up the filthiness, dip a piece of bread into the sauce or even better, mop up the sauce on the grill the crab comes out on.  Heartstopping.  Literally.  But well worth it.
We came in wanting Prime rib and although we were let down that it wasn't available, I thoroughly enjoyed the crab.  And it wasn't too pricey- everyone paid $33 which included tip.  Not bad for a crab feast. I will definitely wait until Salito's works out the kinks in their service before coming back for the Prime rib.  And you'll be the 1st to know about it.