The next morning we went to The Stepping Stone which was featured on Man vs. Food.  I have been here once before and really enjoyed it so was looking forward to Round 2.  This time around I got what is called the Smothered B.A (short for Bad Ass) because only a Bad Ass would eat this artery clogger.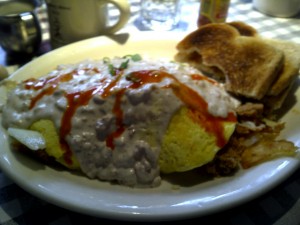 It's an omelet stuffed with chicken fried steak, cheddar cheese, hash browns, fresh jalepenos, and covered with sausage gravy.   Deeeeeeelicious! My friend got the biscuits and gravy and it was 4 FULL biscuits with gravy on it.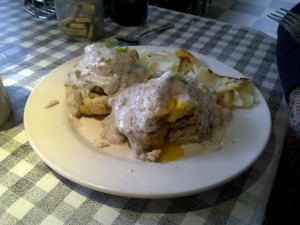 Filthy.  The special of the day was the country benedict which consisted of a biscuits with sausage patties, poached eggs and hollandaise sauce on it.  Hmmmm I can't imagine why Americans are so overweight?
For dinner we went to a new Asian fusion restaurant called Ping, which GQ named one of the 10 best new restaurants in the US.  Their sister restaurant, Pok Pok, was also on DDD and I visited them last time I was in Portland.  The wings at Pok Pok were so effing amazing that I knew Ping would be good and they didn't disappoint especially since the sign of the former restaurant was still up which reads, Hung Far Low.  We started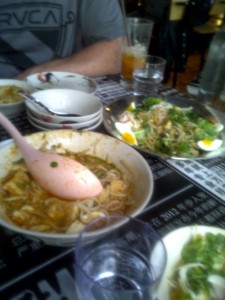 with the quail egg (wrapped in bacon) skewer, the Vietnamese style short ribs and the satay set which included a chicken, beef and lamb skewer.  My favorite part of it was the side of roti which is Malaysian flatbread that is fried- yummy!  The 2nd round included the yum yai, which is a thai-style green salad, the yam khai khem and the laksa nonya soup.  The green salad consisted of boiled eggs, chicken, prawns, sprouts, pickled garlic, scallions, cilantro and tofu with a peanut dressing.  I could've eaten chopped liver with that peanut dressing it was so delicious.  The yam khai khem is a salad with house salted duck eggs mixed together with lime, chiles, fish sauce, shallots, and ginger.  If you like salty, this is the dish for you.  The laksa nonya is a Singaporean coconut curry rice noodle soup that is full of prawns, chicken, boiled egg, fish cakes and bean sprouts.So flavorful and comforting.  For the last round (after another round of the satay set and short ribs) , we got cha gio (fried egg rolls) and the nonya-style green beans.  The egg rolls were good but these green beans were orgasmic.  Served in a spicy curry sauce with deep fried shallots on top, I made room to eat them even though I was seriously regretting not wearing an elastic waistband.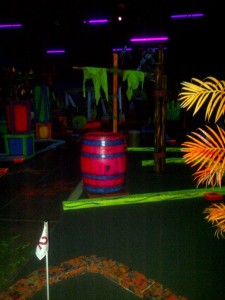 After dinner we went to Glowing Greens Miniature Golf, which is an underground, glow-in-the-dark miniature golf course.  It was 18 holes of awesomeness and I am jealous that there isn't one here in the Bay Area.
After the strenuous 18 holes we headed to Portland City Grill for spectacular views of Portland.  It is Portland's version of the Starlight Room without the dancing.  As with most restaurants in Portland, after 9pm they were offering a happy hour.  Sure, why not?  $5 cheeseburger, $4 sushi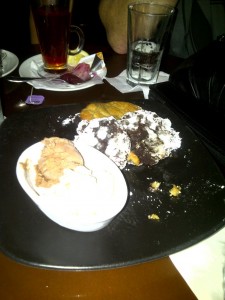 rolls and fordessert- freshly baked, warm cookies (white chocolate macadamia and chocolate-chocolate chip) with Haagen-Daas Vanilla and Chocolate ice cream.  The cookies were gooey in the middle and the chocolate one was like a flourless chocolate cake.  Sinfully delicious!  A must see if you are in Portland.
For breakfast the next morning we went to Mothers Bistro and Bar and like most restaurants named Mothers, this one did not disappoint.  I shared Breakfast Nachos which was roasted red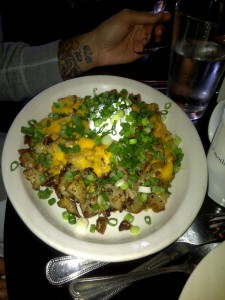 potatoes sauteed with bacon, caramelized onions, a touch of cream, and topped with cheddar, green onions and sour cream.  To die for.  The carmelized onions are what really took this dish to the nextlevel.  I also shared a stuffed fritatta with bacon which is an open faced omelet with bacon, cheddar, and potatoes topped with sour cream and green onions.  Sounds very similar to something else I had just eaten…
The last stop on the Portland food crawl was Bunk's Sandwiches, also featured on DDD.  I got the Pork Belly Bahn Mi and was not disappointed.  The bread was freshly toasted, the pork belly savory and flavorful and the vegetables crisp and fresh.  A testament?  I wanted to take a picture but gobbled it down before I could remember.  Whoops.  And this ended the food crawl of Portland.
Portland is such a great city for foodies because it has so many great stick-to-your-ribs joints in addition to many gourmet spots.  There are blocks dedicated to permanent
food trucks and almost every restaurant has at least 2 happy hours a day with food and drink specials (3-6pm and then one late night).  Any place that serves alcohol is required to serve at least 5 items to munch on.  If you are someone that has food allergies (like a gluten-free diet), many restaurants and cafes cater to these dietary restrictions.  The best part is that if you are used to paying San Francisco prices, Portland feels very inexpensive.  And you gotta love no sales tax (on everything!, Shop away!)  It is near impossible to go hungry here.  As Adam Richman would say, "In the battle of woman vs Portland, woman wins!"
(If you missed Portland, OR Part 1 click here)
I would like to thank Adriana and Trevor for being such gracious hosts!  See you guys next week 🙂  Stay tuned for my adventures in Seattle, Washington!