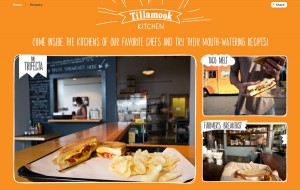 This week, June 11-18, is Tillamook Sandwich Week.  I know, why is it not already on your calendar?!  To celebrate, Tillamook is hosting its Loaf Love Tour and lucky for us, 5 restaurants in the Bay Area are partaking in it.  Here's the lowdown according to SF Weekly:
The American Grilled Cheese Kitchen
Tillamook signature chef Heidi Gibson is featuring the Mac 'n' Cheese Grilled Cheese ($8). In traditional American fashion, they vow to use a different mac 'n' cheese each day. According to Heidi, "By [next] Saturday, things should get interesting." If you want to know ahead of time, check the Twitter feed.
Ironside
Ironside will offer Tillamook Monterey Jack on its Northern Bison burger and Pacific Pastures grass-fed beefburger. (Market price $15.)
Nickies
Nickies is melting a crispy chicken sandwich with a trio of Tillamook Monterey Jack, medium cheddar, and sharp cheddar, served with a side of fresh-cut fries or bleu slaw ($9.50).
Globe
Chef Joseph created a bacon and tomato sandwich featuring melted Tillamook medium cheddar on grilled sourdough.
Brown Sugar Kitchen
Owner and chef Tanya Holland created a smoked vegetable muffaletta topped with Tillamook Monterey Jack.