Chicago, my first foray into the Midwest.  After a short 4 hour Virgin America direct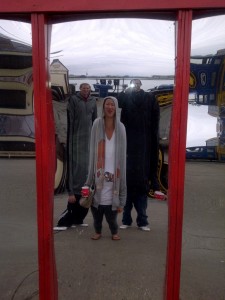 flight, I was excited to see the Chicago skyline and all the other touristy stuff that Asians and their gay boyfriends do.  We got off the plane and headed to the train (it's $2.25 versus $22 a person for a taxi).  After an hour, we got off and the hotel that my friends were staying, The Conrad, at was 2 blocks up from the station. While waiting for my other friend to come from the airport, we decided to walk to the Navy Pier.  We were immediately met with blustery winds that were blowing me sideways, literally.  One immediately thinks that this is why Chicago is called the Windy City, but that name actually comes from the hot air the politicians were known for, a city of brash boasts and unkept promises.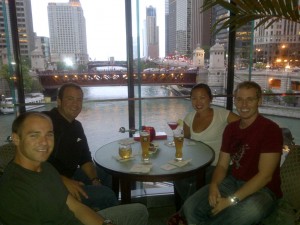 After wandering around Navy Pier for a bit, we headed back towards downtown for a drink. We decided on the recently built Trump International Hotel and Tower.   We had wanted to sit out on The Terrace but due to the weather it was closed.  The Rebar is located on the mezzanine level with amazing views of the river. Drinks are very pricey so you are definitely paying for the view although they have delicious nuts and olives for you to munch on while you drink your $17 cocktail.   We then headed to the well known Lou Malnati's for a Chicago deep dish pizza over in the State/Clark neighborhood. The restaurant is HUGE (the bathroom had at least 10 stalls!) with lots of tv's to watch the games. The outdoor area looked like a converted garage with couches and heating lamps and is great for people watching. We started with an order of cheesy bread because you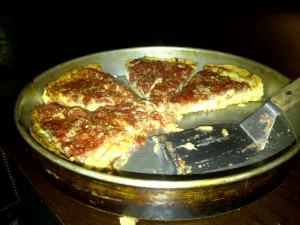 can never have too much carbs with cheese and the pizza takes a solid 30 minutes to be made. We ordered the Classic which has a layer of sausage patty on top of the cheese. When it came I could barely contain my excitement. The crust tasted like it had been dipped in butter before it was baked. Fucking amazing. I love that it's one big sausage patty on the pizza so you get sausage in every bite. Unfortunately, the pizza is sooo filling that I only had room for one slice (insert crying emoticon).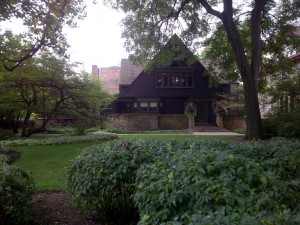 Before doing any tourist stuff, I highly recommend getting the Go Chicago card. This card allows you to pick and choose the tourist stuff you wanna do all at a discounted price. Even better, they email you the scan codes so you don't need to print out anything! Our first stop the next day was Frank Lloyd Wright's house in Oak Park, one of the oldest neighborhoods in the Chicago suburbs. The tour takes you around the house where he raised his family and the adjacent office where he created many of his masterpieces. I've always been a fan of his architecture but this tour blew my mind. It was honestly one of the best parts of the trip. He was so genius and eccentric. For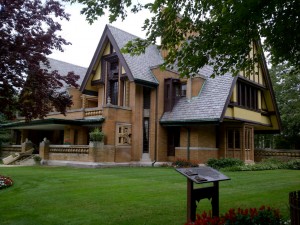 example, he thought the piano was taking up too much space in his children's large playroom so he built it into the wall so the backside was suspended over a staircase.  His life was as fascinating as his work and his children were just as brilliant as he was (his son invented Lincoln Logs). Afterwards we walked around the neighborhood to check out other houses he had designed. Amazingly, these beautiful mansions were only around $1 million. Quite a deal for a Frank Lloyd Wright house if you ask me!
We then headed back into the city and straight to the Sears Tower (now called the Willis Tower), the 8th tallest building in the world.   As we walked up to the entrance of the building where there were revolving doors, a couple was just standing in it, unaware that you had to push the doors yourself. After waiting for a good 15 seconds and realizing they weren't going anywhere, Jimmy was kind enough to push the door and free them from their temporary prison. I'm pretty sure they thought it was a temporary power failure and are probably stuck in another set of revolving doors as I write this. Anyways, before you head out to the 103rd floor where the Skydeck is, you have the option to watch a short 9 minute film, Reaching for the Sky, about the Sears Tower and other well known architectural landmarks built after the Great Chicago Fire. I know, I know you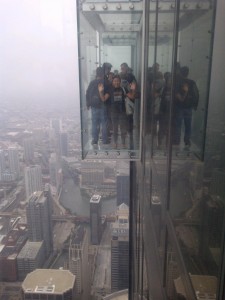 just want to rush out to the Ledge so you can post it on Facebook but the film is worth watching as it gives the history of how the tower came about and what towers now surpass it as the highest in the whole entire galaxy. Once the tower was bought by the Willis Group , The Ledge was added. They are clear boxes that jut out 4.3 feet from the building, which is 1,353 feet above Wacker Drive, and are not recommended for those with a fear of heights. We waited for people to leave the box before we walked in.  This girl, about 11 years old, decided it would be cool to just sit and camp out while playing on her phone.  The mom also thought it was ok as she did nothing despite the fact people were lined up and waiting. Just when i was on the verge of saying, "Can you please get your special child off of the floor and into the short bus so other people can take pics?" the mom finally told her to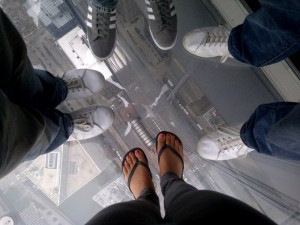 get up.  It also could've been the annoyed glares Matt and I were giving her (no one gets in the way of an Asian and her touristy photo op!). When I went to stepped into the box, the natural reaction was to take small little steps as if it was unstable. You look down and it is absolutely breathtaking and scary. And 100% worth the $15 you pay to come up.
For dinner that night we headed to David Burke's Primehouse at the James Hotel. It was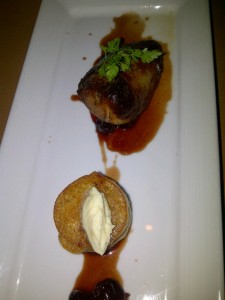 a very modern and chic steakhouse. There were comfy booths but it wasn't your typical dark lighting with dark wood steakhouse. I started with a lychee martini which was sweet and strong. The cocktails are expensive but heavy on the liquor. We started with the foie gras ($18) and the surf and turf dumplings ($11).  My mistake was sharing the foie GRAS. Sooooo good! It came with 3 mini pancakes and succulent cherries and it all worked.  I got the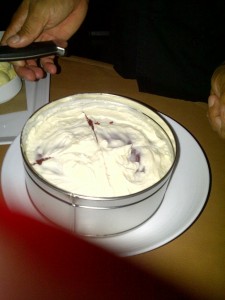 28 day rib-eye ($45) which is dry aged in a Himalayan salt-tiled aging room.  We shared the mac and cheese, creamed spinach and truffle mashed potatoes (3 for $19). We finished off everything except I had some steak left so I could fit in their signature dessert which is cake in a can.  It is a red velvet cake with cream cheese frosting cooked in a tin can so you can take it to go after you've eaten your share.  It ends up being 8 healthy pieces so for 4 people there were 2 slices left.  It was good but not as good as my sister's recipe.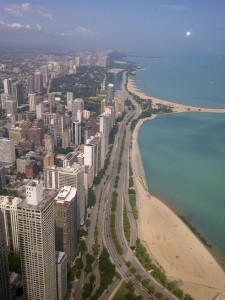 The next day we walked down along the beach on our way to the John Hancock Observatory.  It still trips me out that there are beaches in this city. And they are nice ones too!  The Hancock Observatory, the 5th tallest building in the world when including its antennae, isn't as high as the Sears Tower but it is home to the fastest elevator in the world (pause for gasps of amazement) at 20.5 MPH! The view is also nicer in my opinion. You can actually see 4 other states from this tower (Michigan, Illinois, Indiana, Wisconsin). We then headed over to Navy Pier again for our architectural cruise (with $6 Long Island ice teas in hand). The boat takes you up and down the river while an entertaining host gives you the history of the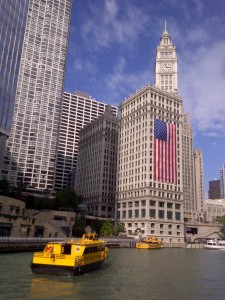 buildings along the way. You develop a much deeper appreciation of Chicago's architecture and is a reminder of what a important city Chicago was in the past and continues to be in the present.  One building you see is the Old Chicago Main Post Office.  Due to the popularity of the Sears catalogue, Chicago needed a post office that was more than 60 acres of floorspace and was nine stories high. The building has been vacant for quite some time and more recently was used to film scenes in Batman Begins and The Dark Knight as well as Transformers.  It's a lot of info to digest in an hour but this cruise is a must-see.
For dinner, I took the L train 2 stops down (soooo easy!) and met my friends at their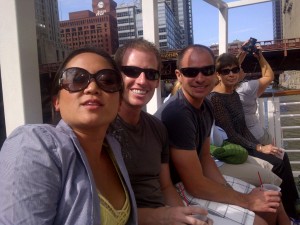 hotel room at The Conrad. We decided to take a quick stroll along the river before dinner. Ok fine, we got a little lost on the way to the restaurant but it was ironically the smartest thing we did. It appeared to be a full moon that night and we reached the bridge just as the sun was setting. The background in the pictures look like a fake backdrop out of Wayne's World. After forcing some tourists to take our pic, we headed to Paris Club (which was recently shown on Bill and Giuliana). Paris Club is a fun and trendy restaurant with small plates and wines on tap. The place was packed and you could tell it's a hot spot. Since we were late for our reservation, they couldn't seat us in the dining room but instead in the bar and cocktail area. The menu is the same in both areas but the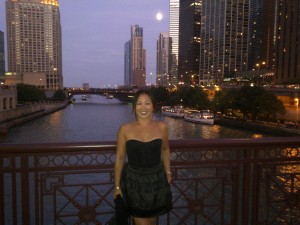 bar area is a lot more fun.  The menu is tapas style and is meant to be shared.  Everything was delicious especially the escargot which is served in a single size ramekin with garlic butter and a puff pastry on top. Once you're done with dinner, you can go upstairs to enjoy cocktails at their nightclub, Studio Paris, which has an outdoor lounge with a retractable glass roof. Unfortunately, we didn't gave time because we had to get to our ghost tour…. Worst tour EVER! Besides sitting on the bus next to a group of high school girls that got scared every time anything was said, the tour guide was hard to understand and seemed to have mastered the art of run-on sentences. Our first stop was at a cemetery and that is when we ditched out. It was that bad. Luckily we were in walking distance of the bars…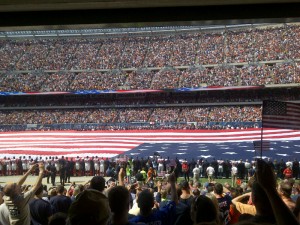 The next day was the first Sunday of the NFL's regular season and we were heading to the Bears-Falcons game. Soldier Field is beautiful even if it does look like kinda like a UFO. To be at Soldier Field on ten 10th anniversary of 9/11 was unforgettable. The sold-out crowd was electric with patriotic pride. From the introduction of soldiers to the singing of the national anthem to the rolling out of the flag, you couldn't help but get a little teary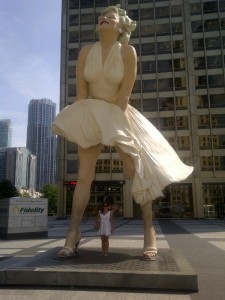 eyed with pride. Thanks to Jimmy's super awesome aunt and uncle, we had insanely good seats, 15 rows back at the 40 yard line. It was a warm sunny day but luckily we were right under the overhang. Surprisingly, I had one of the best gyros ever. It took 10 minutes to get because it was made-to-order and as big as my head. Beautiful weather, packed stadium, and great food. Very similar to Candlestick Park 😉
Monday was my last full day in Chicago and I had nothing planned except to explore the city more. Jimmy and I took some last minute tourist pics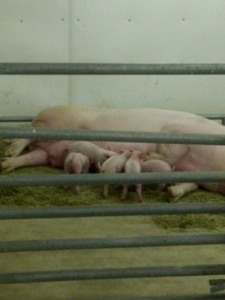 before he had to catch his flight.  I took the train up to And after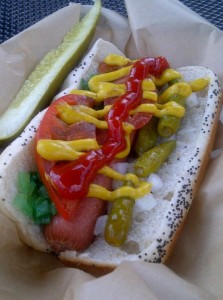 running a quick errand, I walked along the lake in Lincoln  Park towards downtown. The lake really is the next best thing to being coastal. I decided to saunter by the Chicago Zoo and realized that it's free! Most awesome thing ever. Lions and tigers and bears, oh my! I was also able to get a Chicago dog- finally! There is nothing more I love doing than wandering around a city by myself without a schedule. Even though I walked over 5 miles, it was such a relaxing day. That night Jimmy's ever so gracious aunt and uncle took me out to dinner at Zinc, a charming little French bistro. Good food and great conversation. A perfect way to end the day and my trip to Chicago.