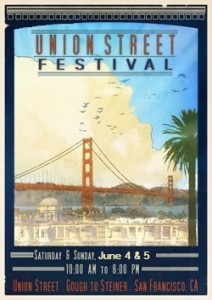 Since it is the first dry Union Street Festival in its 35 year history, many bars and restaurants are opening up their arms and doors so you can still booze it up.  Here's a list of where to go:
Cafe Des Amis– They will be halting food service in order to maximize drinking.  Select items will be available to go.  Look for Daniel (sideburns) to make you a fancy cocktail!
Umami– they are having all day sumo hour starting at 11:30am.  In addition to half off all bottles of wine, there are also specials on sushi and sliders.  And they are clearing out all the tables to make room to really get messy
The Brickyard– comfy place to drink with no cover charge.  Open from 9am-midnight
Unwind on Union– they are hosting their 1st Annual Beer Garden.  They are charging a $10 entry fee which also gets you a draft beer.  Wristbands will be given for re-entry.  Open 10am-2am.
Marengo on Union– both bars will be serving whiskey-spiked Lynchberg lemonade.  Sliders and fries will be available to munch on.  $10 cover
Nettie's Crab Shack– kegs of Big Daddy and Stella will be set up on the front patio along with white sangria.  Standing room only on the patio.
Betelnut– go to the bar and ask Eli to make you a Scorpion bowl and that is all you will need for the next hour
The Brixton– they will have dancing and music on the patio and a pared down menu inside.  Open 11am-2am
Perry's– front room and patio will be strictly for drinking.  No cover charge.  9am-2am
Joe's American– Sierra Nevada and Pieroni kegs will be available along with other beers on tap.  Also offering wine and a pared down menu but outside food is allowed!  11am-5pm
The Blue Light– all day drink specials, a jukebox, pool tables, tvs, always a good time
Once your done with the Union Street scene, you can head over to Burritt Room (Crescent Hotel, 417 Stockton St) to celebrate their 1 year anniversary.  From 7-9, they will be serving free gin-spiked punch and cake for everyone!