Sonoma in the City is the largest tasting of Sonoma County wines outside of Sonoma.  Besides San Francisco, it has taken place in NYC and Washington, D.C., and is a great opportunity to try hundreds of Sonoma County wines all in one place.  My friend Garret, a sommelier
at Cafe Des Amis, got invited to a VIP luncheon as he is friends with Evan Goldstein, a Master Sommelier who was hosting the event along with his company, Full Circle Wine Solutions.  Garret was generous enough to invite me since he knew A) I liked to drink and B) I'm not currently working full-time so could booze it up on a lovely Tuesday at noon.
The luncheon and Grand Tasting took place at the Westin St. Francis in San Francisco.  The chef of the luncheon was Duskie Estes of Zazu in Santa Rosa.  Food Network geeks might also recognize her from when she competed on the Next Iron Chef.  It consisted of a 3 course meal and each course was paired with 3 wines.  Eek!  This is going to be a looooong day.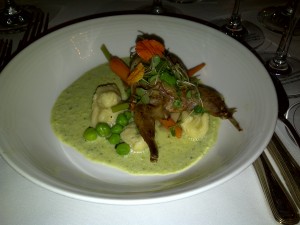 The first course was Tolenas Farm Quail paired with Redwood Hill goat cheese gnocchi and Sebastopol mushrooms, peas and baby carrots.  The quail was tender and succulent and very tasty.  The gnocchi were like fluffy little pillows.  If you like goat cheese, these were little pillows of heaven.  This course was paired with 3 different Chardonnays: 2004 Ramey Wine Cellers Ritchie Vineyard, 2005 Martinelli Winery & Vineyards Charles Ranch, and 2005 Hanzell Vineyards.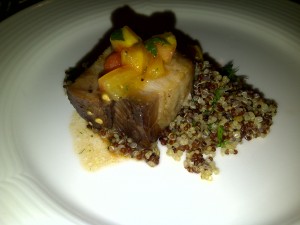 The second course was lacquered pork belly with red quinoa, black crimson tomato and anise hyssop chimichurri.  I finished everything on my plate.  Is that descriptive enough?  This course was paired with 3 different Pinot Noirs: 2002 Joseph Swan Vineyards Trenton Estate, 2003 Dutton-Goldfield Winery Sanchietti Vineyard and 2005 Papapietro Perry Winery Peters Vineyard.   I had the honor of sitting next to Rod Berglund who is the owner of Joseph Swanson. Ironically, that was my fave wine…somehow my glass of Joseph Swan was empty before the course was finished…must have been a leaky glass.
The third course was venison chops with grilled eggplant caponata, cocoa nibs and bing cherries.  Venison is normally a little too gamey for me but these were cooked a perfect medium-rare and just melted in your mouth.  The cherries and eggplant was an odd combination but ended up being a wonderful compliment to the venison.  I guess she knows what she's doing since she was an Iron Chef contender.  This course was paired with 3 different Cabernet Sauvignons: 1992 Silver Oak Cellars, 1998 Laurel Glen Vineyard, 2001 Chateau St Jean Cinq Cepages.
After the meal, it was off to the Grand Tasting down the hall.  Garret's colleague Ted was too cool for the luncheon but shockingly made it to the wine tasting.  And in we walked.  So many wines, so little time!  I'm not spitter but I was trying to not drink the entire pour.  Ok, there were some that accidentally got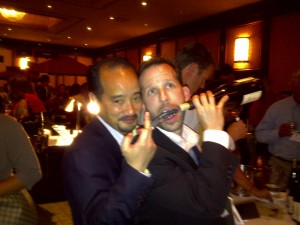 finished but I was really making an effort to not drink everything that got poured into my glass.  Despite my valiant efforts, I still ended up a little drunk by the end of the event.  And since the entire event was in a hotel, you had no idea what time it was, much like Vegas.  When we left and I was very bewildered to see it was still very light out.  It felt like it should be midnight and it was only 5pm.  So the moral of the story here is…..to get a cool friend like Garret who invites you to fun events like this! And don't drink and drive.