I finally got a chance to check out Southern Pacific Smokehouse, the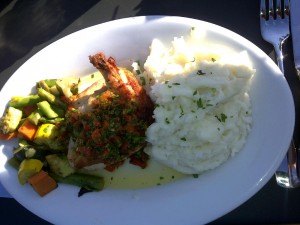 new BBQ joint in Vintage Oaks in Novato.  Located in what was the old Olive Garden, the restaurant is a huge space with a 100 seat dining room and 70 seats outdoor.  The restaurant has a great vibe.  Inside there are big comfy booths and outside it feels like you are casually dining in someone's backyard.  And after dinner, it turns into the Smokehouse Lounge featuring Blues, Acoustic and Country as one of the partners, Phillip Claypool, is a former country artist.
The menu provides something for everyone.  There is everything from crab cakes to sandwiches and salads to fish and chips.  The wood-fired oven makes 4 different kinds of pizza as well as chicken.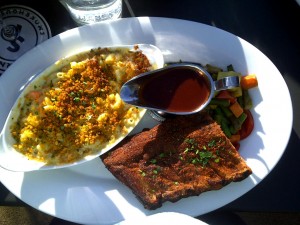 I got the half rack of ribs which came with roasted vegetables and mashed potatoes which I substituted mac n cheese for.  The ribs came with a great dry rub and bbq sauce on the side.  The ribs were very tender, easily fell off the bone, and the dry rub was very smoky.  Meat really needs to be well salted in order to bring out the flavor and these ribs definitely needed more salt which I added.  The bbq sauce was a vinegary but lacking in flavor.  The mac n cheese had a great bread crumb topping but it could've been more cheesy.
My friend got the roasted chicken with mashed potatoes and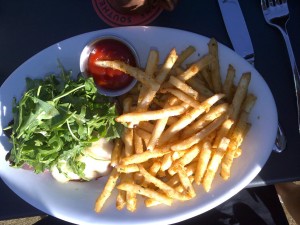 roasted vegetables.  The chicken was well seasoned and very lemony.  The mashed potatoes were light and fluffy but needed more butter.  My other friend got the open-faced tri-tip melt which had grilled onions, horseradish cream,  tomatoes, Gruyere and arugula on top.  It came with a side of french fries which were amazing.  They were  seasoned and crunchy, almost like they had panko crumbs sprinkled on them before they were deep fried.  I will definitely go back for the fries.
Unfortunately, we didn't have time for dessert as we had to rush across the way for a Target run.  Overall, the food was OK, service was excellent and prices were very reasonable.  I will definitely return, possibly for one of their 2 happy hours, to give it another shot.