Finally used my $25 Restaurant.com gift certificate to Nellie's Soul Food and was not disappointed.  Located in West Oakland not far from Jack London Square, it is definitely a restaurant a little off the beaten path.  The restaurant is in a building which houses a lot of random offices.  The entrance from the outside is a non-descript door that looks like an emergency exit and you suddenly forget where you are.  There's a bar in a room to the right with TVs.  The restaurant was probably once a huge office that was converted. There was a juke box in the corner playing all sorts of jams.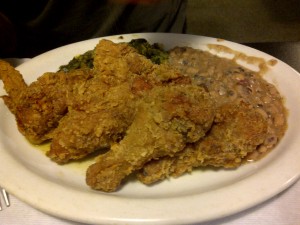 The menu had tons of mouth-watering options like ribs, fried chicken, fried oysters, wings, burgers, and smothered chicken and steaks.  Every entree comes with your choice of 3 sides.  We ordered 1/2 fried chicken which came with a thigh, 2 drumsticks, and a wing.  It was well seasoned with a great crispy friedness while the chicken remained moist.  For the sides we got black eyed peas, collard greens with bacon, and potato salad.  The peas almost tasted like re-fried beans (a good thing) and the collard greens were some of the best I've ever had.  The potato salad had hard-boiled egg in it which I love.  Super delicious and will probably get 2 orders next time!
We also ordered the fried seafood platter which came with 2 pieces of fried catfish and snapper, 3 prawns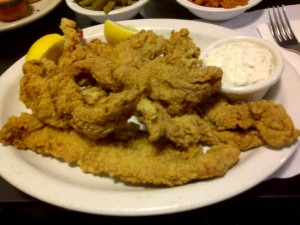 and 3 oysters.  The cornmeal crust was complemented by the homemade tartar sauce.  The fish remained amazingly moist.   For the sides, we got French fries, green beans and yams. Fries were good, green beans ok, but the yams were delish.  So sweet it was almost like dessert.  Every table also got an order of mini cornbread muffins.
Service was a little slow but the tunes comin out of the jukebox made the wait a little easier.  I will definitely be going back to Nellies the next time I get a craving for soul food!