I had the pleasure of having a leisurely lunch at L'Appart Resto. The sister restaurant of Le Garage in Sausalito, L'Appart Resto did not disappoint.  If you are familiar with Le Garage, you know it is a charming little French restaurant with simple and delicious food and attentive French-speaking servers. And if you're a Francophile like me, you know you can never have a bad experience wherever French is being spoken.
L'Appart Resto is on the main road in downtown San Anselmo.  It has a huge patio in front that gets great sun and is also perfect for people watching.  That is if you aren't totally engrossed in the food like I was. The menu is simple and straightforward with nothing overly fancy or pretentious.  And portions were a very good size.  You will not leave hungry!
They start you off with French bread with an olive tapenade.  I am typically a purist and prefer butter with bread but this tapenade was salty goodness and I didn't even ask for butter… true story!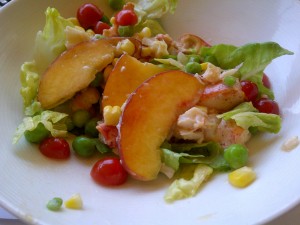 We started with a round of appetizers.  The Maine lobster salad ($15) is one of the best salads I've ever had especially for the price.  The best part is that they do NOT skimp on the lobster.  Huge chunks and lots of it.  The butter lettuce salad is prepared with English peas, corn, tomatoes, peaches and a Meyer lemon tarragon vinaigrette. It was colorful and fun and all the ingredients were so fresh and light and perfect for the 80 degree afternoon.
The shrimp stuffed squash blossoms ($11) are a must.  Squash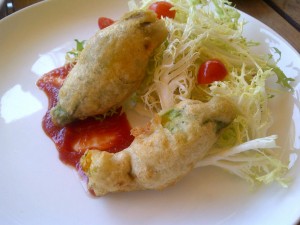 blossoms are the flower part of squashes (or zucchinis) and they are great stuffed with seafood or even a sweet cheese and then deep fried of course.  These were lightly fried, stuffed to the brim with shrimp and served with a piquillo pepper coulis.  So delish.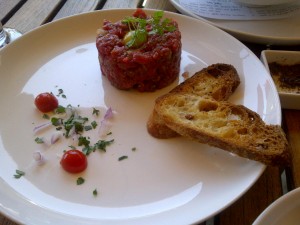 The 3rd appetizer was the Kobe Beef tartare ($10).  It was prepared with shallots, capers, parsley and ground mustard and served with a quail egg on top and grilled croutons. This dish pretty much speaks for itself.  Put some olive tapenade on it if you're feeling really adventurous!
The last dish was the croque madame ($10) which is a classic French sandwich.  It is ham, Gruyere, and bechamel on  fluffy, buttery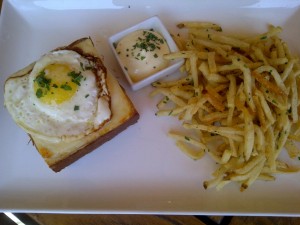 Panarama brioche with an egg on top.  Instead of the mixed greens, I substituted the Kennebec house-cut fries with aioli and I definitely gave myself a pat on the back for that brilliant decision.  You can dip any and everything into that aioli and it's good.
At the end of the meal, Bruno Denis, one of the owners, came and chatted with us for a while.  He was so friendly and engaging.   He said hi to several people who walked by which showed me he makes an effort to remember and get to know each and everyone of his customers.  That was the icing on the cake.  A restaurant that serves amazing food without breaking the bank and is run by people who truly love what they do.  And they all speak French.  Can you really ask for anything more?