It always amazes me when you discover a restaurant that you've probably walked by a hundred times and never noticed.  That's how I felt about FIVE Restaurant which calls itself a Modern American Bistro and Bar.  It's located in the Hotel Shattuck Plaza in Berkeley, which I had never even noticed as it is totally non-descript on the outside but gorgeous on the inside.
As you walk into the hotel lobby, the bar and restaurant are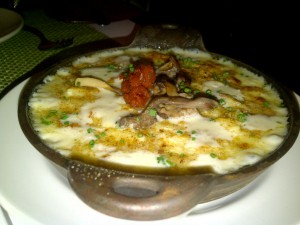 immediately on the right.  The gentleman at the front desk immediately came over to us, asked us if we needed help, and escorted us to the host of the restaurant.  I loved the feel of the bar and restaurant.  With it's high ceilings, white pillars, chandeliers,  and colorful wallpaper and lighting, it felt like a throwback restaurant with a modern vibe.  I felt like I was in New Orleans, which is one of my favorite cities in the world.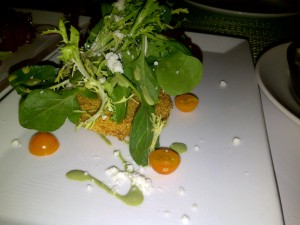 We started with fried green tomatoes ($9) that came with cypriot style cheese and a basil buttermilk dressing.  They were perfectly fried in a cornmeal crust.  Next was the orzo mac n cheese ($12) made with gouda and roasted mushrooms and topped with a tomato jam.  I think they were oyster mushrooms, which I love, and the tomato jam tasted like sun-dried tomatoes, which gave the mac n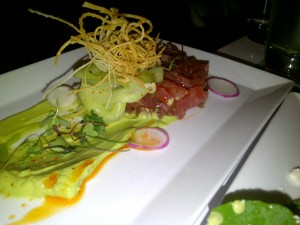 cheese another depth of flavor. There wasn't a single piece of orzo left in the little skillet.  Maybe they should offer a big skillit size for the piggies that come into their restaurant.  The round of appetizers was finished with the tuna tartare ($13) that was dressed with a red miso-lime dressing served with creamy avocado and crisp won-ton strips. It was good but not extremely memorable.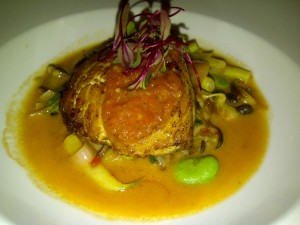 For the entrees, we got the hawaiian butterfish ($23) which came with a ragout of beech mushrooms, fava beans, and sunchokes.  The butterfish was crisp on the outside and super moist on the inside.  The ragout was so flavorful, it tasted like it was made from just-picked tomatoes.  Yummy!  We also got the spinach gnudi ($17) which is like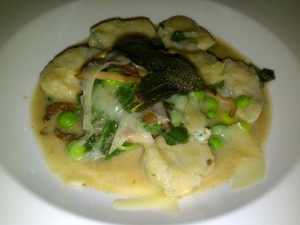 gnocchi without the potatoes so its basically all cheese (ricotta to be exact).  This was served with English peas, nettles and oyster mushrooms in a sage brown butter.  You can never go wrong with anything in brown butter and I loved the deep fried sage leaves in it!  We got an order of their buttermilk biscuits ($5) on the side.  They were jalapeno-cheddar with white cheddar pimento cheese on the side.  Oh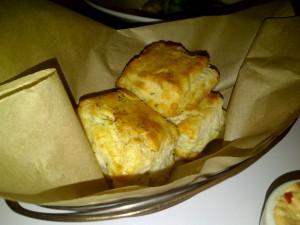 man.  Flaky, buttery goodness.  Wish I had left more room for them but had to save room for dessert!
For dessert, we shared the ricotta panna cotta ($7) with fruit compote and a rosemary cookie.  Still have yet to try a panna cotta that I didn't like.  I dove into it without taking a photo- sorry!
The meal was excellent but what made it so memorable was the sweet, elderly man sitting at the table next to us.   I learned that every year he stays at the hotel for a month to visit his son and friends.  He shared the most amazing stories with us (how he avoided being sent to a camp during the Holocaust) and I feel lucky to have met him.  Just a thought- next time you're at dinner and someone sits solo next to you and makes small chit chat, encourage it.  More often than not, the stories you hear will fascinate you and stay with you a long time.  Bon appétit!