I first discovered Bistro Sabor (1126 First Street, Napa) when I was in Napa, back in September.  I had reservations at Morimoto at 6:30pm but the playoffs were starting and I desperately wanted to watch the Giant's game versus the Braves.  I walked by this cute little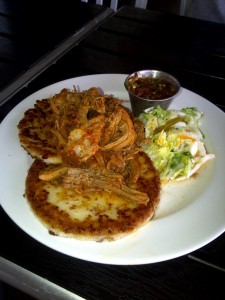 restaurant where they had multiple flat screen TV's so in I marched.  I walked into the restaurant not really knowing what kind of food to expect.   What I found was Latin American street food and snacks with a modern twist.
Bistro Sabor is a very casual restaurant where you order at the counter and they bring you your food.  But don't let this deceive you into thinking it's low rent.  It has the best pupusas I have ever eaten.  And that is saying ALOT!  The handmade maiz is so fluffy, it has the texture of grits or even mashed potatoes.  It is stuffed with cheese and then fried to a  perfect golden browned.  It is then topped with cabbage curtido and salsa fresca and your choice of Pulled Tinga Pork or Green Chile Chicken.  Both are flavorful and super tender although I lean more towards the pork.
One of the specials that day was a soft shell crab torta.  Delicious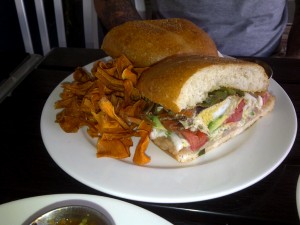 deep-fried soft shell crab on a soft roll with roasted green chili peppers, tomato, avocado, refried beans and a delicious aioli.  It was served with a side of homemade sweet potato chips.
The eating didn't stop there. Next up was a quesadilla.  I must preface this by saying, I am not one to order a quesadilla when I go to a restaurant.  It is something that is so easy to make (especially when you have a Snackmaster)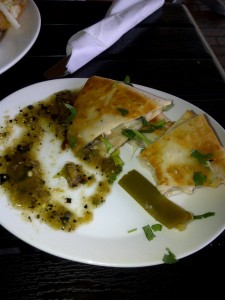 that I can never bring myself to order it.  Since it was a happy hour special, I figured why not.  I ordered the chicken, mushroom and cebollita quesadilla.  And I did not regret it.  The mushrooms made all the difference.  The tortilla was a buttery golden-brown and the salsa verde on the side was smoky and delicious.  You can taste the freshness in all the ingredients.
And another added bonus?  The whole meal cost less than $30! Thanks to the Giants, I found this little gem of a restaurant which I probably would never had eaten at otherwise.  I highly recommend eating at this restaurant next time you are in Napa but not 2 hours before your dinner reservations.