Sausalito recently got a new restaurant on their waterfront just in time for the summer.  Bar Bocce, a pizzeria from the Real Restaurant Group (Buckeye Roadhouse, Bungalow 44, Bix, Betelnut), just opened at 1250 Bridgeway and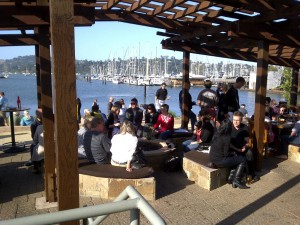 is sure to be a summertime hangout.  With amazing views of the water and Tiburon, it also has 2 bocce courts and an awesome firepit.
With Robert Price (executive chef of Buckeye) heading up the kitchen, you know the food is going to be amazing.  The delicious sourdough pizzas come have fun varieties like potato, bacon, and organic egg or dungeness crab, meyer lemon and avocado creme fraiche.  The sea salted crust on these pizzas are the icing on the cake.   Yuh-meee!  If you don't feel like pizza they have yummy meatballs (or meatball sliders) with pinenuts that lend great texture to them.  The kobe beef lasagne is not to be passed up.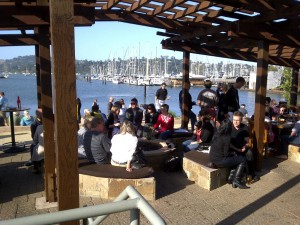 (I really meant to take pics of the food, but it accidentally jumped into my mouth before I could).  Or just go to enjoy a drink on the water.  There is no liquor but plenty of wine and beer on tap.  Service can be scattered as people try to fit themselves wherever they can fit and servers don't seem to have set sections.  If you are just going for a drink, you can just go inside to the bar.  With summertime around the corner, this is the place to be.
*My friend reminded me to take a picture of a pizza before devouring so here it is- smoked bacon, marble potato, and fontina with the option of an egg on top